The ultimate sleeper. Audi's flagship sedan, the S8, doesn't draw much attention to itself. Save for a few subtle changes in brightwork, it's barely indistinguishable from the A8 on which it is based. But massive S8-branded calipers hiding behind 21″ wheels tell the true story. Redesigned for 2015, the S8 features new front and rear fascias. The changes are significant enough to require a new hood and a wider trunk lid. Reshaped LED lights and a larger, lower front grille add a squarer, more aggressive posture to the new S8.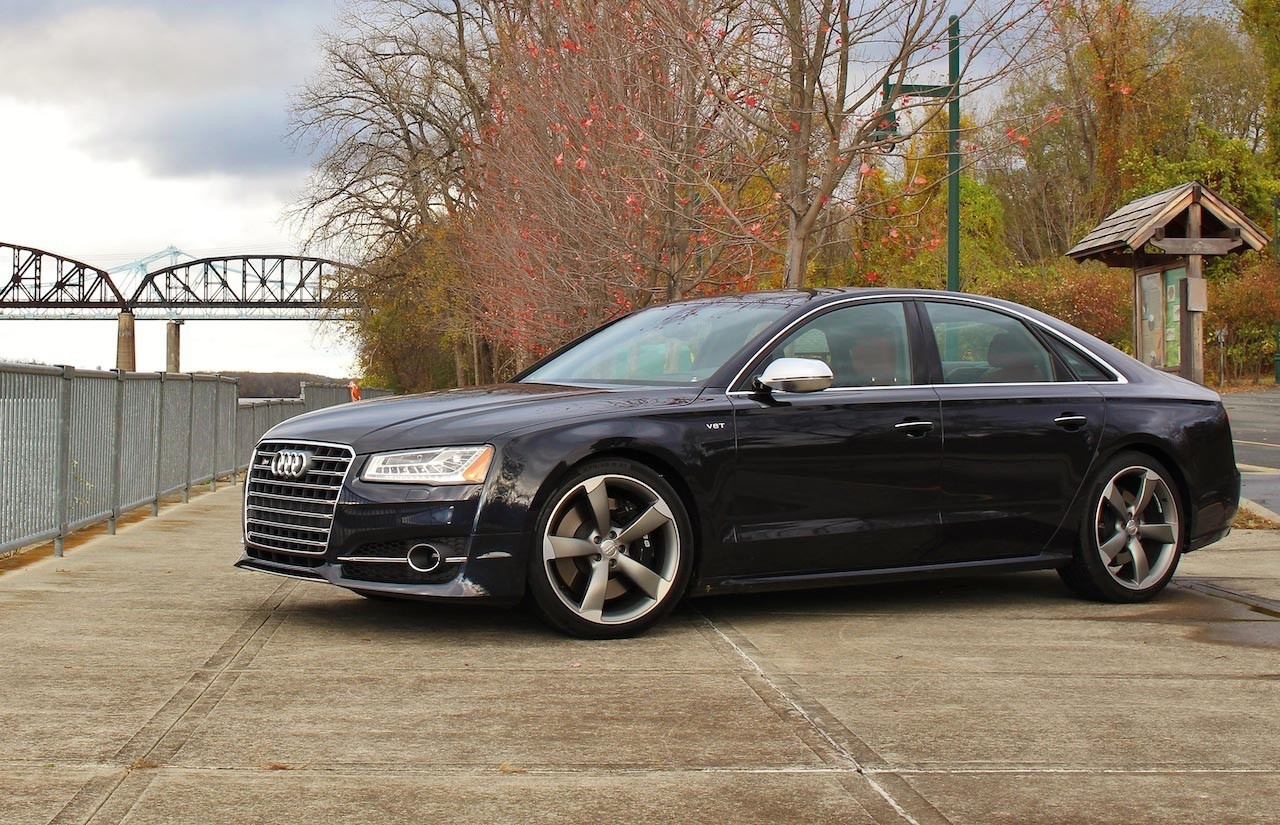 Unlike some of its competitors, the S8 rides only on the short wheelbase version of the A8's platform. To that extent, the driving experience feels more like a sedan than a limousine. And with a 4.0L biturbo V8 under the hood, it definitely qualifies as a sport sedan. 520hp and 481 lb-ft torque twist through an 8-speed automatic transmission to Audi's quattro all-wheel drive system. In a straight line, 60mph is dispatched in less than 4 seconds. But the S8 still weighs the better part of 4,600 lbs, meaning the sports car demeanor can only carry so far. The standard sport rear differential helps to mitigate understeer, but the S8 won't be mistaken for anything less than a full-size sedan.
Inside, options like Audi's Design Selection package and Band & Olufsen Advanced Sound System fir the S8 with all the luxuries of a living room. Audi high-end interiors have always combined superb materials with German precision. The S8's two-tone, diamond-stitched Vermont Brown seats integrate heating, ventilation, and massage functionality to spoil front-seat occupants. Alcantara, carbon fiber, and aluminum accent the cabin throughout. It's genuinely a very nice, and very relaxing, place to be. And while the interior options drive the as-tested MSRP to north of $130k, the S8 still enjoys at least a $30k price advantage over its competition from Mercedes-AMG and Porsche.
The driver's seat may become your favorite seat in the house, even when the S8 is parked in your driveway. As a whole, it has the uncanny ability to thrill you in one moment and relax you in the next. It remains equally comfortable traveling via adaptive cruise control as it does shooting the gap and filling a void in traffic before everyone else can figure out how you got there. The S8 does all this masquerading as a simple luxury sedan, making it one of the most inconspicuous ways to run a quarter mile in under 12 seconds ever invented.
If you're in the market for  new or used Audi S8 check out the amazing selection here on SpeedList.
Editor's Rating
Audi has crafted the most inconspicuous ways to run a quarter mile in under 12 seconds ever invented.
8.5